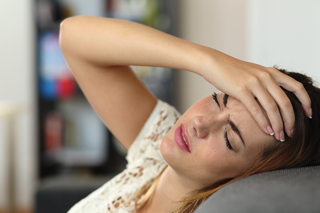 About one in four Americans suffer from migraines, or head pain that lasts four to 72 hours, in the United States and it's a leading cause of disability. Fortunately, by understanding how metabolic disorders affect the brain, we can use functional neurology and neurochemistry to help many people with migraines find lasting and significant relief.
Many migraine sufferers feel they miss out on much of their lives. It's hard to make commitments to social events, concerts, picnics, or other events because they never know when they'll be felled by a migraine. Many migraine patients are also dependent on one or more drugs to function, and some of these drugs can cause rebound migraines!
When a migraine is coming on or hits, symptoms may include not only pain but also inability to tolerate light or sound, nausea and vomiting, dizziness, numbness and tingling in different parts of the body, visual auras, déjà vu, hallucinations, and more. These symptoms are important clues in functional neurology to help us determine which part of the brain is affected during the migraine. For instance, visual auras indicate an issue in the occipital lobe, which governs vision, while déjà vu signals a migraine affecting the temporal lobe, which plays a role in time perception.